Which Ram is Right for You?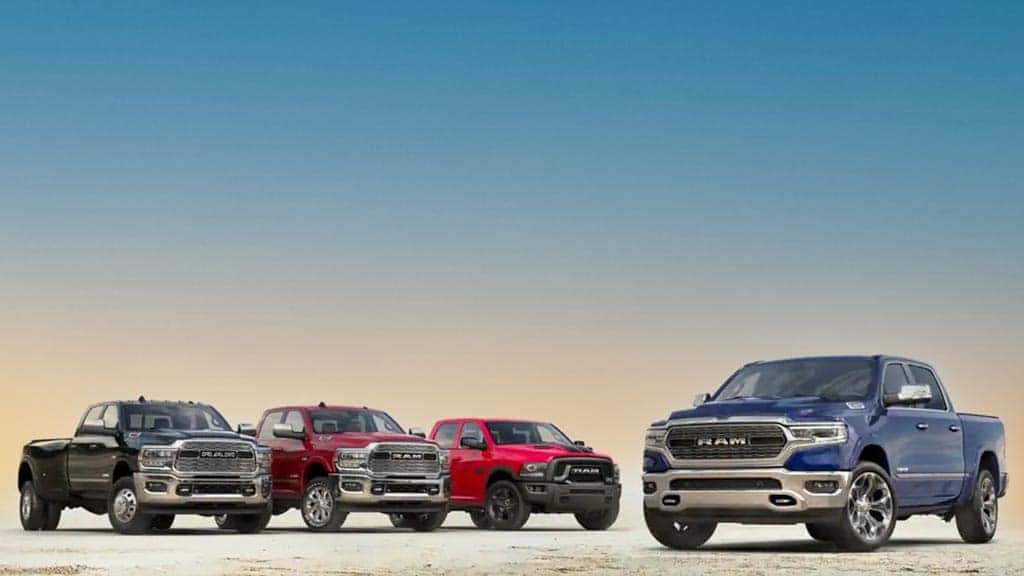 When you're in the market for a new truck, one brand stands above the competition in almost every metric: Ram. Ram trucks have consistently been ranked as the top trucks on the road, beating other brands like Ford and Chevy again and again. At Blake Fulenwider Chrysler Dodge Jeep Ram, we're proud to be Ram truck experts. We only sell only the highest quality trucks available because we know our customers deserve the best. So, if you're looking for a new truck, the question isn't, "Which Brand?" It's, "Which Ram?"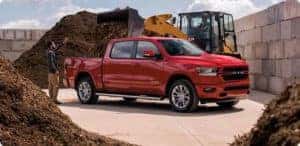 While the Ram 1500 has led the competition since the day it launched, in recent years the gap has only widened. It's won countless awards, including multiple Motor Trend Truck of the Year awards, and stands tall as one of the most powerful and versatile light-duty trucks on the market.
If you need a truck for work or play, the Ram 1500 is a great option. It can haul light equipment just as easily as it can tow a boat to the lake or an RV to the campsite. With up to 12,750 pounds of towing capacity, the Ram 1500 can handle nearly every job you throw at it.
All of that power comes with many industry-leading innovations, like the available multifunction tailgate with 60/40 split swing doors which makes accessing your bed even easier. Rugged enough for construction and ranch work while still coming packed with convenience and comfort features, the Ram 1500 really is the Swiss army knife of trucks.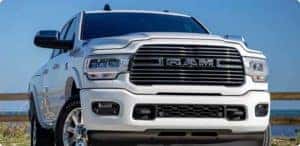 Now say you need to tow something that's a bit more than the Ram 1500 can handle. Look no further than the truck that was named both the Motor Trend Truck of the Year and the Texas Auto Writers Association Official Heavy Duty Pickup Truck of Texas: the Ram 2500.
This heavy-duty workhorse has almost all of the versatility and features of the Ram 1500 with a bit more power under the hood. It's legendary 6.7L Cummins Turbo Diesel engine can tow up to 19,680 pounds, making this the perfect truck for anyone looking to haul heavy equipment to the jobsite or around the farm.
It's also perfect for anyone serious about having a good time. Large boats, RVs, and much more are towable in the Ram 1500, and with exclusive Ram features like the RamBox Cargo Management System, the perfect weekend is always in reach.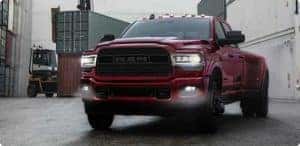 Now, when you absolutely need something to move, you call in the big guns. I'm talking about a truck with up to 1,000 Lb-Ft of Torque and a Best-In-Class 410 standard horsepower. The Ram 3500 is a beast of a truck that can't actually move a mountain, but it could sure haul a tractor over one.
When equipped with the available 6.7L High-Output Cummins Turbo Diesel I6 Engine, the Ram 3500 can tow a staggering 35,100 pounds! Nearly 18 tons! That's not to mention it's 6,570-pound payload capacity. Needless to say, the Ram 3500 can tow just about anything, from heavy machinery to pretty much any RV or horse trailer on the market. Basically, when a job needs doing, the Ram 3500 is the truck that will get it done no matter what.
Whatever Ram you're looking for, come see the truck experts at Blake Fulenwider Chrysler Dodge Jeep Ram in Eastland today! We're your trusted Chrysler, Dodge, Jeep, and Ram dealership in Eastland County, proudly serving Eastland, Abilene, Cisco, Ranger, Breckenridge, Baird, Stephenville, and Weatherford. We put you first!